The Connecting Minority Communities Pilot Program is a $268 million grant program to Historically Black Colleges and Universities (HBCUs), Tribal Colleges and Universities (TCUs), and Minority-Serving Institutions (MSIs) for the purchase of broadband internet access service and eligible equipment or to hire and train information technology personnel.
NTIA is continuing to review the more than 170 applications received during the application window, which closed on Dec. 1, 2021. The Connecting Minority Communities (CMC) Pilot Program will announce additional awards on a rolling basis as they go through NTIA's review process. 
NTIA is proposing a public interest general applicability waiver of Section 70914 (Buy America Preference) of the Build America, Buy America Act (BABA) included in the Infrastructure Investment and Jobs Act for all iron, steel, manufactured products, and construction materials, with the exception of fiber optic glass and fiber optic cables, used in infrastructure projects funded through CMC awards. This proposed waiver would be in effect for a six-month adjustment period beginning on the date of its issuance. NTIA seeks public and industry comment from all interested parties on this proposed waiver, as well as any other issue or concern presented by the Notice. Please submit comments to CMC@ntia.gov by October 3, 2022 at 11:59 p.m. ET. 
Connecting Minority Communities (CMC) Pilot Program - Anchor Community Eligibility Dashboard
The CMC Anchor Community Dashboard is for informational purposes only and is intended solely to assist potential applicants in better understanding the CMC Pilot Program and the requirements set forth in the Final Rule for this program.  The Dashboard does not and is not intended to supersede, modify, or otherwise alter applicable statutory or regulatory requirements, or the specific requirements set forth in the Final Rule and Notice of Funding Opportunity (NOFO).  In all cases, statutory and regulatory mandates, and the requirements set forth in the Final Rule and NOFO, shall prevail over any inconsistencies contained in the Dashboard.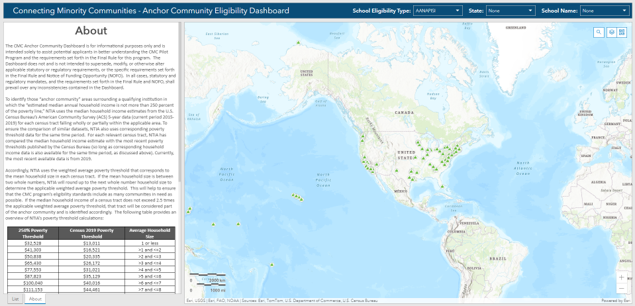 Connecting Minority Communities Pilot Program Webinars
Recordings, transcripts and presentations from past Connecting Minority Communities Pilot Program webinars: